Hang on Madame Samm....be right with you...I just need to work my way out of this scrap mess...
(do these scraps make my hand look fat)??
What fun to be here today, thanks so much for having me.
Some of you are familiar with me, Bejewe
led Quilts by Barb
, and my talking about scrap breeding.
My slogan is..."Stop Scrap Breeding"....it should be outlawed.
One way is to leave your
lights
on at
night
, nothing good ever happens in the dark....you will wake up in the morning and your scrap bins will be overflowing.
So...today I am pulling out all the stops and taking out my trusty Go cutter to help me tame these beastlie beauties.
You can friend them on facebook, every Friday they have a giveaway of some sort and sometimes they even give away a Go cutter. (no, I am not a paid employee). I am just so in
love
with my Go cutter...is that wrong?
So Saturday I started going through my scraps, can you believe I ironed almost everyone of them? I cut...I ironed...and then cut some more...
Got it down to this....
notice the full basket is gone!
Sheweeeee....so I began again on Monday....just a few hours left.
I did not do anything with these...they are big enough scraps to get bigger cuts from the tumbler or apple core and frankly.....I am sick of scraps, I could scream...well...I did scream...
Don't worry, I muffled my mouth with scraps so as not to scare the neighbors.
The red basket is full of 2 1/2 " strips (middle) on each side the strips are 1 1/2" to 3". To be honest, I only have the 2 1/2" strip cutter....
What about some tumbler blocks?
Empty basket....ahhhhhhhhhh Accuquilt!!!
Now you will see some of the projects I have done in the last year with my Go Cutter. The pink one on the bottom right was not done with the go cutter but very well could be done with one. Click on the picture for a bigger view.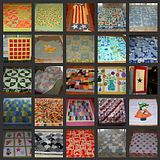 Now for those of you who are wanna be quilter's, you can go and visit Bonnie Hunter she gives you some wonderful pointers on scrap orgnization. You really do need a system. As you could tell mine was just throwing it in a basket and sometimes try to tame it....SHAME ON ME!!!
I always thought that you could just leave your Go cutter out and when making a quilt, take your scraps and cut up the excess as you were cutting your quilt or after, just to make sure you don't make a mistake and need more fabric. Unfortunately, you saw that I cut in my kitchen...no room to leave the cutter out. Temporary living space for now.
One word of advice "YOU ARE ONLY AS GOOD AS YOUR FIRST CUT"....
That is why I love my Go cutter...makes doing applique a cinch!!
I recently got the Fall Medley in the mail... Now the person that invented the two toned foam should be given a raise...
So...I am going to show you how to do applique with your Go cutter and how to make a pot holder.... The towel is done with the same principle.
You Get your Steam a Seam, or heat bond (always follow the directions)...iron it onto the back of your fabric...like so...
I know that if you want to do reversible like letters....you put the paper side face up...but in my case, it just doesn't matter.
There you have it....a beautiful cut in minutes....
I went to my scrap basket and got a large piece of white scrap (no more scrap breeding for that pesty bugger).
I had enough to make a 9" square. I took my applique pieces and pulled off the paper and then ironed them onto the white fabric. (sorry no picture) You can see how it is arranged in the very first picture or the last...it is your project...you can do what you want!!
As you can see, Now I am ready to applique the pieces with my machine. I have it on a blanket stitch. You can zig zag if your machine does not have this feature. Now Ricky Tims taught me this....before you start your blanket stitch, take a few straight stitches (I take anywhere from six to ten), then I start to blanket stitch...
I will go all around my pieces and end up back to where the straight stitches are and I will blanket stitch over that...then as an extra percaution I take a few straight stitches just to secure the stitches. If you will notice....no threads in the back...no knots...
Then I take my piece and find a backing that will be anwhere from one and a half to two inches bigger than my appliqued piece.
Get my insul brite, cut it as big as my backing piece.
sandwich...
I center my applique piece...
Pin......, saftey pins are better but hey....these were close by..
Go to the machine and stitch all around the applique, I am using black because that is the thread I blanket stitched with.
Trim your insul brite to the appliqued piece
Cut backing fabric one inch from the appliqued piece.
Get the trusty glue out
Go to the ironing board....you will iron the 1 inch allowance in half
iron it over again and glue down...you will do top and bottom first...
Then when you get to the side you will do both ends just like this....and then you will fold it in half...iron...
Fold over again, glue and iron...and you will get this...do this to all four ends.
I use an Unused hair bob (don't even think about using a used one...grosssssss)....you will clip the metal piece off and place it in the fold of the upper left corner.
You will take a top stitch all around the edges and....
This is what you will get, I embellished it with a button.
Editors note: We can count on Barb to bring us smiles
and to get us sew excited about anything from Accuquilt..
She really LOVES the machine and dies..oh yes...
And it seems to me that she loves her GO sew much
in her honor we should give another one away today for
QUILTERS.....and 3 dies of your choice.
Giveaway today is for

Quilters...
If this
Go Baby
is still on your wish list..well today
you could possibly win it...tomorrow
the winner will be announced.
HOW to win..Go to see
Barb
and be a new follower
of hers, she is always surprising us with not only her wit
but her keen blog post...
Go to
Accuquilt

a
nd let us know which 3 dies
you would like to win...
Subscribe to them as well...
They would love that.. and you will be kept to date with news of
all their new dies....
Of course be a follower here...this is a good thing....
Big thanks goes out to Barb, Accuquilt and YOU for
being the type of quilting friends who make us smile
with your flattering notes
to our guests..
Gosh it really makes them feel loved!
YOU are kind, you are smart and you is important to us!
As of 10:30 am this morning
there are 32 of you who have commented
that are NO REPLY bloggers..please check your
dashboard
In blogger.com, click on Dashboard.

Check the box for "Show my Email Address."